OnBlackheath Festival, London's premier music and food event welcomed back a host of music and cookery fans, families and festival-goers. Following yesterday's crowd-pleasing shows from Primal Scream, Hot Chip and many others, thousands flocked back to the historic heath to enjoy the third year of standout live music, mouth-watering food experiences and a packed programme of family entertainment.
'Another sunny day' came to an end as Belle & Sebastian closed OnBlackheath Festival today following fellow 90's stalwarts, James. Not one person sat down when James rocked through a greatest hits set as the sun went down over the South-East London park.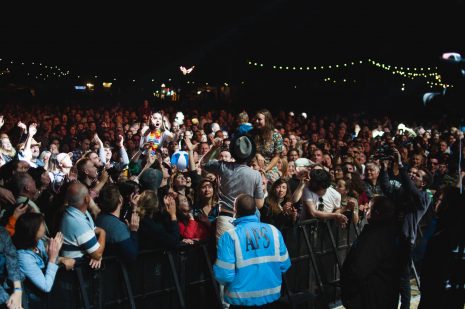 Earlier in the day, The Lewisham & Greenwich NHS Choir took to the stage on Sunday lunchtime, they brought amuch needed charm of sunshine and proved that they have much more than just a great bedside manner as they coaxed the early arrivers out of bed.
Squeeze gave the crowds quite a treat by bringing the NHS Choir on stage with them for the last few songs of their performance. They harmonised to 'Cradle To The Grave' and a very special version of 'Cool For Cats' which topped a great set by the local lads.
Elsewhere, on the Heavenly Stage, Edwyn Collins was 'out of this world' as he wowed his fans with almost four decades worth of finely honed tunes and witty lyrical hooks. Nothing could stop us as Saint Etienne took their spot on the Heavenly stage, later followed by the Night Beats who ensured no Sunday mourning.
Down at the Puffin World of Stories, Peter Rabbit was spotted causing mischief in Mr. McGregor's Garden and judging a huge tug-o- war competition in the sunshine. On the Magical Storytelling Stage, Steven Butler, author of The Diary of Dennis the Menace, was encouraging menacing with his loudest burp competition, and VIP's Spot the Dog, the Clangers and Puffin spent the day meeting their adoring public.
On the John Lewis Chefs' stage, DJ BBQ was smoking beats and meats, combining his two passions of cookery and hard-hitting tunes. Also, Jack Stein and Ching He-Huang brought seafood and Asian cuisines to the masses on Blackheath.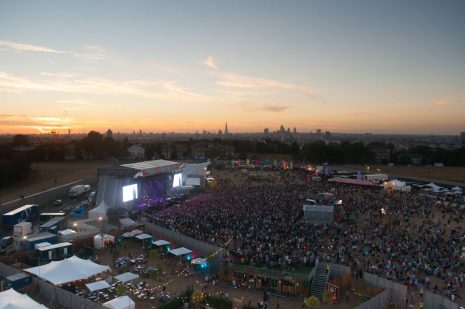 Festival promoter Harvey Goldsmith CBE said "Thank you to everybody who attended the 3 rd OnBlackheath festival, the change in the site layout this year has been welcomed by everybody. The Puffin World of Stories has been an amazing success and Theo Randall who hosted out chef's club completely sold out and was joyed by one and all. We are really delighted to have John Lewis as our partner. This relationship has created a great festival for all the family.
Next Saturday 17th September we are repeating this formula at OnRoundhay Festival in Roundhay Leeds, we look forward to seeing you there"