The world's most beloved tenor, Andrea Bocelli, returns to the UK and
Ireland for a special date at London's O2 Arena on Friday 2 November
2018 and Dublin's 3Arena on Wednesday 31 st October, with tickets going
on sale on Friday 8 December at 10am via andreabocelli.com/tickets for
the London show and 9am via andreabocelli.com/tickets for the Dublin
show.
Reportedly the biggest selling solo classical artist of all time with over 80
million worldwide album sales, Bocelli has performed for four US Presidents,
two Popes and many Royal families across the world, as well as at high-
profile ceremonies for the Olympic Games and the World Cup. The Maestro
has countless music awards to his name over past 25 years in music and
even boasts a Star on the Hollywood Walk of Fame, which he received in
2010 for his contribution to live theatre.
Andrea Bocelli last toured in the UK in 2016 in support of his album release
'Cinema', which featured songs from movies – the record included stunning
duets with Ariana Grande and Nicole Scherzinger, and reached number three
in the UK charts.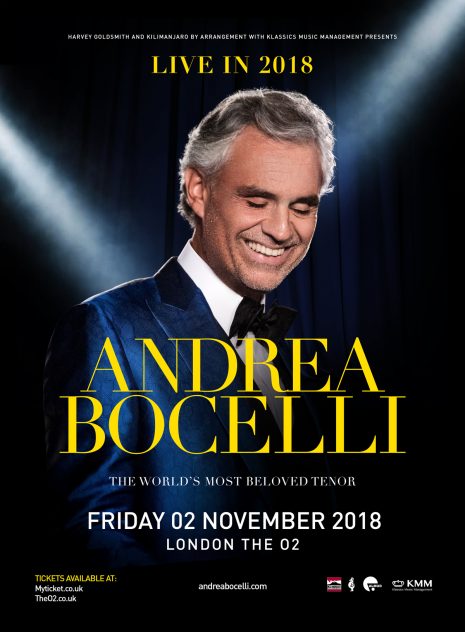 These exclusive UK and Ireland show dates are set to be some of the most
hotly anticipated live performances of 2018 and are sure to amaze once again
the audience at both arenas. Fans of the Italian tenor can expect the show to
feature the popular repertoire from across his 15 studio albums. Commenting
on the tour, Andrea said:
<These are two new concert dates which are particularly dear to me; they are two further
transoceanic appointments in two islands that I love and frequent for years. I will celebrate
these two occasions amongst many friends, to give thanks to the many people who are
steadfast and kind to appreciate the fruits of my profession.
To begin with, leafy Dublin, welcoming and generous like its audience, who I remember with
particular affection. Finally, the stage of the O2 Arena in the pulsating heart of England as
Samuel Johnson wrote "…When a man is tired of London, he is tired of life; for there is in
London all that life can afford". As I am a passionate enthusiast of life and vitality (as well as
of love, the engine of life), going back to London shall be pure bliss".>
2018 Tour:
Wednesday 31 October 3Arena, Dublin
Friday 2 November The O2 Arena, London
Tickets:
31 October – 3Arena, Dublin: andreabocelli.com/tickets
2 November – The O2, London: andreabocelli.com/tickets – VIP
Packages available