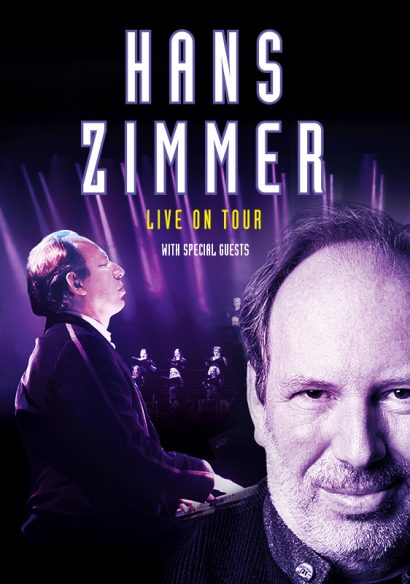 Hans Zimmer Live 2017
Hans Zimmer, Hollywood's most in demand and innovative film music composer whose 100 film scores have made over $24 billion at the box office, will be returning to Europe in the Summer of 2017 following his very first US and Australian concerts.
Hans, whose music can currently be heard in BBC 1's 'Planet Earth II' and the Nexflix phenomenon 'The Crown' will be joined onstage by his 15 piece studio band, along with an orchestra and choir bringing the total number of musicians on stage to over 60.
'Hans Zimmer Live On Tour' will be a multi-layered experience for concertgoers and a must-see concert event, featuring career-spanning music from Zimmer's multi-decade career.
Hans's first ever tour 'Hans Zimmer Revealed' in 2016 kicked off with a sold-out two night run at London's Wembley Arena before embarking on a 33-city run that included shows in major European cities including, Paris, Berlin, Munich, Prague, Geneva, Dublin and Vienna to name just a few.  The tour received rave reviews in every city it visited and due to it's incredible success 2017 will see Hans performing Scandinavia for the first time.
Hans Zimmer's live shows for 2017 will begin on the West Coast of the USA and will visit Australia and New Zealand before coming to Europe, from there Hans and his band will return to the US for his very first full US tour.
The 'Hans Zimmer Live On Tour' concerts will be in two parts: the first being some of Zimmer's classic movie scores including GLADIATOR, THE LION KING and PIRATES OF THE CARIBBEAN and more and the second featuring re-imagined versions of some classic scores such as THE DARK KNIGHT TRILOGY and INCEPTION with special guests from the rock and pop world.
"Performing a concert series like this is something that I have always wanted to do, and I am thrilled to kick off these west coast dates, visit Australia and return to Europe where we had so much fun playing in the summer." said Zimmer. "I am very excited to get some of my very talented friends together and give our audiences an experience unlike any concert they have ever been to before."
"Following the extroadinary success of Hans's first ever sold out tour in Europe, I am delighted to have the opportunity to present Hans' first concert series in the US and his triumphant return to Europe." stated Goldsmith. "Hans is a genius of our time, having thrilled millions of cinema goers with his amazing film scores. At last, Hans will reveal a collection of his finest scores to a live audience."
HANS ZIMMER LIVE ON TOUR 2017
May-16                      Helsinki                     Hartwall Arena
May-18                      Stockholm                 Ericsson Globe
May-20                      Oslo                            Telenor Arena
May-22                      Copenhagen                        Forum Copenhagen
May-24                      Leipzig                       Arena Leipzig
May-26                      Gdansk                      Ergo Arena
May-27                      Lodz                           Atlas Arena
May-30                      Krakow                      Tauron Arena
Jun-01                       Budapest                   Papp Laszlo Sports Arena
Jun-02                       Bratislava                  Ondrej Nepela Arena
Jun-04                       Prague                       O2 Arena
Jun-06                       Vienna                       Stadthalle D
Jun-09                       Frankfurt                    Commerzbank-Arena
Jun-11                       Paris                           AccorHotels Arena
Jun-13                       Dublin                                    3Arena
Jun-20                       Antwerp                     Sportpaleis
Jun-21                       Amsterdam               Ziggo Dome
Jun-23                       Vienne                       Theatre Antique
Jun-24                       Nimes                        Arenes
Jun-26                       Zurich                         Hallenstadion
Jun-27                       Zurich                         Hallenstadion
Back To Event Listings