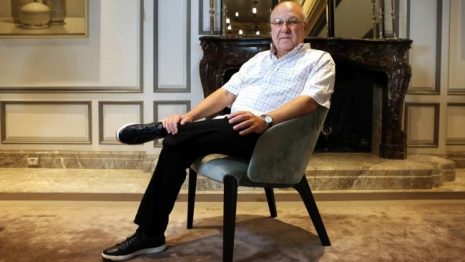 Full article from http://www.theaustralian.com.au/
Harvey Goldsmith is in high ­spirits. Punching the air with ­delight, the promoter and producer of events from Live Aid and the Three Tenors to The Rolling Stones and David Bowie, is buzzing about how uber composer Hans Zimmer became a rock star at the Coachella music festival.
Leaning across a table at ­Japanese restaurant Saké in ­Sydney suburb Double Bay, Goldsmith is beaming with astonishment and pride as he shares a YouTube clip on his iPad of ­Zimmer wooing crowds in sunny California two weeks ago.
"I've never seen anything like it," Goldsmith tells The Australian. "We wanted to go on as it got dark. Just before the performance started the field was empty, and then suddenly they began arriving en masse like lemmings. We had a crowd of 90,000 people. The audience didn't know what to expect. They were actually crying during The Lion King, and the live online stream pulled in more than one million streams."
But there's another good reason for Goldsmith's upbeat mood. "I've just become a grandfather for the first time, I'm overjoyed," the 71-year old reveals as he produces pictures of a beaming baby boy sent to him by his wife from their London home.
Goldsmith is in Australia to stage the first of four shows under the banner "Hans Zimmer Revealed". Kicking off in Sydney tomorrow, the German composer will steer a 76-piece orchestral ­juggernaut through a breathtaking concert performance.
Zimmer energetically leads the way on piano, acoustic guitar, bringing vividly to life a selection of the memorable soundtracks he has composed for films including Gladiator, Pirates of the Caribbean, The Lion King, The Dark Knight and Inception.
Designed by Marc Brickman, who worked with Goldsmith on a Pink Floyd tour, the show weaves together an intoxicating, intricate symphony of visual delights.
Goldsmith, once dubbed "the greatest impresario we have produced post-war" by rocker Bob Geldof, is enjoying something of a renaissance.
Like his late friend Bowie, who reinvented himself over and over through his career, Goldsmith has moved with the times after the "festival circuit peaked". Now, Goldsmith produces less conventional acts like Zimmer having spent four years persuading him to go on the road after first meeting him in 2013.
"There are not enough big acts to headline festivals anymore. It's a big problem. We are not producing a new generation of these gigantean acts that can headline. We've got a situation where ­because of technology more music is available to listen to today than ever before.
"On one hand, it is quite hard to monetise music for artists because of piracy, and on the other hand, the industry got too greedy. The consequence of that is we don't have enough creativity going on, and audiences don't want to watch many contemporary artists live. Music has become much more instant and disposable. The traditional route of artists writing and producing a body of work and performing has fallen away. Those that do bodies of work are looked at as old farts. I haven't gone anything against urban music but the artists come and go overnight."
Still, reunion tours are big business, and live music has been a welcome fillip for the music ­industry as it grapples with digital ­distribution models and the shift to online streaming. In Australia alone, live music events generated $1.4 billion in ticket sales in 2015, according to a report from Live Performance Australia.
It has become hugely lucrative for concert operators and ticketing agency Live Nation, which last year bought a controlling stake in Secret Sounds, the Australian music festival group.
But Goldsmith, one of the founders of Band Aid in 1985, is not happy about the state of the industry. "Live Nation is a massive machine and they're terribly successful. But at the heart of it there is no soul and logic for what they do. They don't put creativity back into it and that's what they're missing. They're buying centrally to stop rivals getting shows, but they don't really go out there on a local basis. They're like office managers. Promoting is about individuals who have a lot of passion for a particular band or act."
Goldsmith is also furious with black market ticket touts, and the impact of the online ticket resellers, which he says snap up tickets and sell them at a vast profit.
"We have a duty of care to our fans to take care of them. But we're one of the few industries that sometimes kick the fans in the teeth. Ticketing distribution is a real problem. We as a business have to decide what a ticket is. It shouldn't be a commodity to be bought and sold with impunity. We're here as a thank you to the fans. If we keep screwing them, they will walk away. We allowed third parties to take control. Ticketing companies have no emotional ties to the industry."
Of Bowie, the pain is still fresh after the iconic figure died in January 2016 after a secret 18-month battle with cancer.
"I knew he was unwell, but I had no idea how serious it was. He was an absolute gem, and I got on really well with him. I remained a friend of his until he died; we used to email each other. We went through that whole period of music in the 1970s together."
Despite turning 71 in March, Goldsmith quickly dispatches any talk of retirement. "I could have retired, but I enjoy what I'm doing. To find talent like Hans Zimmer and present him to the world in the way we have done it gives me a huge buzz. Business is tough and not everything works but I still get enormous pleasure from it. I like giving people real value and great entertainment."
Zimmer plays the Qudos Bank Arena in Sydney tomorrow, the Rod Laver Arena in Melbourne on May 4, Brisbane Entertainment Centre on May 6, and Perth Arena on May 10.