This is a concept note for a high-profile medical humanitarian convoy travelling from
Europe to support heroic Syrian medical workers and humanitarians in building a
Children's Hospital in Aleppo. It will be powered by the public, via crowdfunding. It
will be organised by key Syrian and international organisations and supported by
public figures. At a critical moment for Syria this convoy will draw public attention to
the systematic attacks on hospitals and create pressure for political action.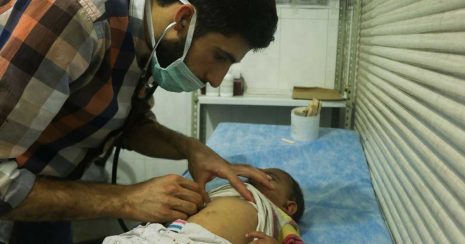 "Even if they destroy every single hospital, we will never give up."
Basra, 23 year old nurse in Eastern Aleppo
Three years ago the UN described Syria as the 'greatest humanitarian crisis of our era' – the
current situation is even worse.
Healthcare in Syria is in a state of emergency — we are seeing an unprecedented attack on
hospitals, health workers, and as such the very principle of medical neutrality. In the last few
weeks, the five remaining hospitals in East Aleppo were bombed out of operation. 275,000
civilians have been left without access to basic medical care. One of the hospitals destroyed
was the last remaining children's hospital. It was bombed whilst treating the victims of a
chlorine gas attack.
All across Syria the situation is similarly bleak. Physicians for Human Rights have reported
repeated deliberate attacks on medical facilities, civilian hospitals, health workers, and
patients all over the country, creating a critical and widespread need for medical resources.
When the bombs fall, the wounded and dying are rushed to makeshift hospitals in caves,
basements and even living rooms. Many facilities have been attacked multiple times, and
forced to change location repeatedly for safety.
Despite the attacks and against all the odds, medics are managing to save lives every day, operating by the light of cellphones, using rudimentary equipment and insufficient supplies of medicines.The scarcity of medicine and equipment means that many people die unnecessarily because basic medical needs are not met.
Whilst our Governments do little to stop the violence and suffering in Syria, we the people
and civil society, can and must act. We may not be able to stop the bombing, but we CAN
save lives.
THE CONVOY : A PRACTICAL AND SYMBOLIC ACT
We are organising a high-profile relief convoy from the UK through Europe to Aleppo to allow
the Independent Doctors Association (IDA) to build a children's hospital in the countryside
north of the city – an accessible area reaching approximately 185,000 people (33% of whom
are children under 12 years old). ​By getting the public directly involved in the aid effort, this
convoy will not only get urgently needed medical care to the children of Aleppo and bring
some hope to their families, but will draw attention to these barbaric attacks on hospitals and
build public pressure to end the use of atrocious and inhumane sieges that are preventing
more than a million people from accessing basic healthcare.
We aim to create a coalition of hope by harnessing the goodwill of the public, who we know
want to act to save lives and alleviate ​the suffering of the Syrian people. We know that public
figures from Nobel Peace Prize winners and faith leaders to politicians and businesspeople
would welcome being able to offer high profile support to this opportunity for shared action.
Our Aims
1- Save lives.​ This is practical, direct and specific humanitarian intervention that responds to
critical local needs. Children in Aleppo's countryside desperately need health care: we are
providing IDA with the money and equipment they need to build a hospital after theirs was
bombed out of existence. This action is about rising above the hate and allowing medics to
continue their life-saving work.
2- Show solidarity: ​the People's Convoy is a way of demonstrating public and high-profile
solidarity with Syrian medics and aid workers, and their communities. It is a way of saying:
we hear you, we see you, we stand in solidarity with you. We salute your bravery, risking
your lives to save others.
3- Create political pressure:​ bombing hospitals is a war crime. It is not acceptable. We will
not stand idle and accept it, or let governments around the world ignore this. We will rebuild
what gets destroyed, and put pressure on those with agency to let aid in, and stop targeting
civilians. The public profile of the convoy will send a message to governments around the
world that people do not accept the status quo and will not stand by while Aleppo burns.
We hope this People convoy will catalyse similar partnerships in other European countries,
powerfully amplifying our aims and messages.
Funding
We intend to raise the approx 90,000 GBP needed for the Children's Hospital through a
crowd-fund. We need a further 20,000 GBP towards the costs of the convoy.
The Practicalities
The convoy will start in the UK and travel overland through France, Belgium, Germany,
Austria, Hungary, Serbia, Bulgaria, and Turkey.
The convoy will take 5 days to reach the Turkey-Syria border. When the convoy reaches the
Turkey-Syria border it will be dis-assembled and handed over to IDA. They will then transfer
the hospital resources through known routes and channels to mitigate the risk of remaining
in convoy. Convoy chaperones will return home from Turkey.
The logistics of the operation will be handled by Across the Divide. They have 20 years
experience of working round the globe, from remote projects in Mozambique to the BBC's
recent Children in Need Rickshaw Challenge.
Timeline
Campaign launch: Tuesday 6th December, 2016
Convoy launch: Saturday 17th December, 2016
Partners
Our partners bring an impressive range of knowledge, skills and experience to our
campaign: logistical expertise, the most effective ways of delivering aid to and working on
the front line in Syria.
Coordinating partners:
● CanDo: a not-for-profit social enterprise on a mission to transform the
health-humanitarian response in war-devastated communities by catalysing
life-saving local humanitarians. www.candoaction.org
● The Syria Campaign: an independent advocacy group campaigning for a peaceful
and democratic future for Syria. www.thesyriacampaign.org
● Crisis Action: a catalyst and coordinator for organisations working together to protect
civilians from armed conflict www.crisisaction.org * CA works behind scenes: not to be
mentioned in public-facing comms)
● Across The Divide: en event management company, which has operated on most of
the world's continents over the past two decades, working with organisations both
large and small to raise over £87m.www.acrossthedivide.com
● Doctors Under Fire
Supporting partners:
● UOSSM (Union of Medical Care and Relief Organisations): provides medical relief
and health care services to people affected by the crisis in Syria, Turkey and
Lebanon www.uossm.org
● Syrian American Medical Society Foundation: a non-profit, non-political, professional
and medical relief organization www.sams-usa.net
● Hand in Hand for Syria: one of first groups to take humanitarian aid into Syria, and
have remained at the forefront of emergency aid in Syria
www.handinhandforsyria.org.uk
Syrian Partners
Syrian NGOs leading delivery of the project inside Syria:
● Independent Doctors Association: provides services to conflict affected people, with a
special focus on children and women. www.ida-org.com
HOW TO GET INVOLVED
​ Sign up in support: We want organisations and institutions to to demonstrate a
broad-based coalition of actors supporting this convoy. If you want to be part of this we
would list you on the website and media as a supporting partner. Get in touch re our partner
packages and asks.
​ Join the Convoy:​ ride with us in the Convoy for all or part of the journey across Europe, or
join us in your own vehicle. Your presence would help raise the profile of the Convoy and its
urgency. We would be happy to coordinate your transport, accommodation and logistics for
the journey but are kindly requesting that each person covers their own costs.
​ Make a donation towards the cost of the convoy: to help power this extraordinary venture
​ Make a donation towards the building of the hospital: we will provide you with all details
of our plans for the hospital if you sign up for updates.
​Attend our launch event: help us give the UK Convoy a big British send-off at our event to
wave off the Convoy. This would require 60-90 minutes of your time on December 16th in
London and would include a media photo call. More details on location & time will be sent to
you if you sign up for updates.
​ Spread the word about the crowd-funding appeal on social media: we will provide
sample posts and shareable assets.
Openness, transparency and accountability is incredibly important to us. You will receive full
reports from us. We will ensure that your humanitarian contribution is fully acknowledged
and credited.
Join us and be part of an extraordinary, bold and positive venture, mandated by these
tragic and urgent times.
Contact details:
Dr Rola Hallam
Founder and CEO CanDo
hello@candoaction.org
www.candoaction.org
0044797022918